Science in the spring is always a good learning time for me and this year is no different. I look forward to going to Nashville and re-connecting with friends I only see once a year.
This year is already special because I am so excited to be a member of the Teaching Channel's NextGen Squad. I am so ready to meet these new colleagues and collaborate in our understanding of the Next Generation Science Standards. On Thursday, March 24th at 7 PM , there will be a #TchLive Twitter chat. We will be talking about #NSTA16. I hope you will join us and share your session recommendations with this group of K-12 educators who are heading to Nashville to take a deep dive into the #NGSS!
I do have one recommendation to share myself. I am shamelessly urging you all to come to our session. If you have ever had the opportunity to learn from Carla Zembal-Saul , you know she is just one AMAZING educator!!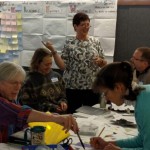 SC-1: Juggling It All: Teaching NGSS in Elementary Grades
Thursday, March 31 1:30 PM – 4:30 PM
Sheraton Nashville Downtown, Capitol 1
Ticket Price: $23 advance; $28 on-site
Purchase tickets when you register online or on the Nashville Advance Registration Form.
Elementary teachers juggle planning and implementing NGSS -focused learning experiences, disciplinary literacy and ELA standards, and mathematics. Through participation in science learning activities, facilitated small- and whole-group discussion, video observations, and discussions with teacher leaders, participants in this short course will begin to address key shifts fundamental to teaching NGSS in elementary grades. These shifts include three-dimensional learning vs. fun activities; investigating phenomena vs. teaching topics; data collection/analysis vs. recording observations; using evidence to construct explanations vs. sharing observations as endpoint; arguing from evidence vs. non-dialogic discussion; and productive talk vs. Initiation-Response-Evaluation (IRE). First we will engage in model science lessons that illustrate three-dimensional learning and curriculum integration. Then we will view, analyze, and discuss K–5 videos of classroom science instruction. Emphasis will be placed on classroom discourse and talk moves, the Claims-Evidence-Reasoning framework for constructing scientific explanations, KLEWS charts for mapping explanations, visual representations of data, and harmonizing content across the curriculum. NGSS-focused resources will provide real-world implementation examples and strategies that can be used after the short course. We will share resources identified by NSTA Curators that are available from the NSTA Learning Center. Every participant will take home a copy of the book,What's Your Evidence?
Presenter(s): Carla Zembal-Saul (Pennsylvania State University: University Park, PA), Kathy Renfrew (Vermont Agency of Education: Barre, VT), Mary Starr (Michigan Mathematics and Science Centers Network: Plymouth, MI)
FORMAT: Short Course
GRADE LEVEL: K, 1 – 5
SUBJECT: General Science Education
CONFERENCE STRAND: Stringing It All Together: Three-Dimensional Learning
       Here is a picture from a recent day spent learning with Carla!
This post was published earlier today by the Teaching Channel. I wanted to make sure I got the information out in as many ways as possible.
https://www.teachingchannel.org/blog/2016/03/18/tchlive-nsta-2016-preview/
I also want to suggest the Elementary Extravaganza if you teach K-5 because it is full of science ideas that you can take directly back to your classroom
And don't forget the NGSS share-A-Thon on Saturday! Carla, Mary, myself and many other #NGSS knowledgeable educators will have lots to share. I will tell you about my share in my next post.
Look forward to Wooly Willy..coming soon.