I am feeling exhilarated and saturated. I want to celebrate the Vermont educators who are attending the Three Dimensional Learning series because we are so on the journey to #NGSS implementation. Thinking about those Vermont educators who are on the cutting edge of changing science instruction for all students in VT is why I am feeling exhilarated. I know we still have lots of work but we have broken ground.
I am feeling saturated after only two days but those two days have been so very full of new learning for me. Yesterday Brett Moulding who has been featured in some of the Achieve/ Teaching Channel videos. One of them that directly connects to his talk yesterday is NGSS:A Vision for K-12 Science Education  . Brett shared the concepts, ideas, and vision for implementation of #NGSS. Brett's work with teachers is multi-faceted and the components of the professional learning he shared are supported by the research around quality professional learning. One piece of this work that intrigues me is none of the professional learning happens during the school day. All sessions occur either in the summer, after school or on Saturdays. By doing this no teacher ever has to leave their classroom, no sub plans. Is this a case of if you build it they will come? What makes it work? Brett also shared his new book A Vision and a Plan for Science Teaching and Learning . Brett shared his work with the Council of State Science Supervisors and now I'm sharing the presentation with you. There is a link to Brett's book and you can buy it at a much more affordable price that it is listed on Amazon.
Cary Sneider gave an informative presentation on Engineering in NGSS: New Curricula for New Standards
We  worked in committees on Tuesday and I had the opportunity to work with Amber McCulloch and Carla Zembal-Saul .
We also had the opportunity to listen to Joe Krajcik and Al Byers from NSTA.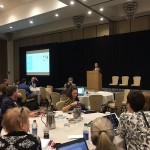 On Wednesday the presentation I found so valuable was that from Dr. Philip Bell . He was awesome. Phil has done great work with his project called STEM Teaching Tools. I am going to use Phil's words that he posted in the NGSS for Educators Facebook Page because I can cannot come close to explaining as well as he does .
How To Develop 3 D Formative Assessments for the Science Classroom
I highly recommend spending some time digging deeply into STEM Teaching Tools.
We need to be using research-based practices in our work with students whenever possible.
These are my thoughts about the first three days I spent in Nashville. Oops I almost forgot about sharing my first music experience in Nashville. On Monday we went to the Adventure Science Museum  but the best part was listening to Jonathan Singleton, a songwriter for Tim McGraw, Miranda Lambert, Keith Urban and more. And here they are :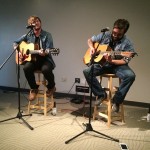 Thanks to Linda Jordan for arranging .
"