How do we make our students' thinking visible? Let me count the ways.  Maybe by starting with  a question to prompt students thinking just as my colleagues did today.  The question they used to get us started "How can teachers make their students thinking visible.  The tool they used was KLEWS Chart .
How Can Teachers Make Their Students' Thinking Visible?
What Do you Think You

Know ?

What Have You

Learned

?

What is Your

Evidence

?

What Are You

Wondering

?

What

Science

Words and Principles?

Drawings

Data

Force

Motion
 It was totally brilliant how Amy and Joy engaged the audience in exactly what they would have asked students to do.
We started by filling out the first column .  Then we began an exploration where we gathered evidence about How force affected movement of balls? While gathering evidence teachers were talking , recording ideas in notebooks . We then gathered in a scientist meeting to discuss our investigations and the evidence we gathered that allowed us to begin to make some tentative claims.
Joy then brought us back to the KLEWS chart and we processed And completed the chart about How Teachers Can Make Their Students Thinking Visible.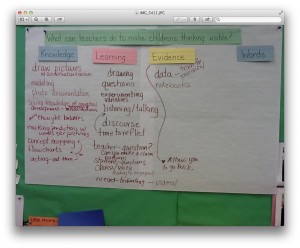 Joy and Amy did an amazing job making this seem doable for teachers and students.  I can hardly wait to hear feedback on how some of the participants have used their new learning.
We explored some more of this work on Friday March 4th when Carla Zembal-Saul was leading professional learning for Vermont educators at the Montshire Museum. Here are some pictures from our day. Carla led the group though instruction and interaction with the KLEWS chart and later Joy led a breakout group on KLEWS.  I love having the opportunity to share the expertise of my Vermont colleagues.