I have been thinking about an instructional sequence of learning about energy in fourth grade  today and trying to figure an anchoring phenomenon/event/problem & question combination to tie the instructional sequence together.
If the anchoring phenomenon is doing its job,  meeting its purpose then all learning experiences : investigations, reading, writing or scientists meetings will have a direct connection back to the anchoring phenomenon.
All instruction that occurs is part of a carefully constructed plan. The thread that holds the learning experiences together needs to be strong enough so they are relevant and meaningful to students.
Students need to understand the reason they are making an observation, reading a piece of text in science, engaged in an investigation and/or constructing an argument from evidence. in this instance if students are asked a question such as "What are you doing in science today?" their response might be " I'm trying to figure out where motion is happening inside the energy ball" or " Why does the energy ball light up when I push the sensors?"

In order to help a student be able to respond that way I'm trying to make sure I ask the right questions at the start of the learning because those questions in conjunction with the phenomenon will drive my instruction.
The instructional sequence is built  around the following performance expectations. I have created a performance task based on the engineering performance expectation.
Ask questions and predict outcomes about

the changes in energy

that occur when objects collide.

Use evidence to construct an explanation

relating the speed of an object

to the energy of that object.

Make observations to provide evidence that

energy can be transferred

from place to place by sound, light, heat, and electric currents.

Apply scientific ideas to design, test,

and refine a device

that converts energy

from one form to another
Now to carefully consider my questions. Do they work?
So here is my anchoring phenomenon:                  The Energy Ball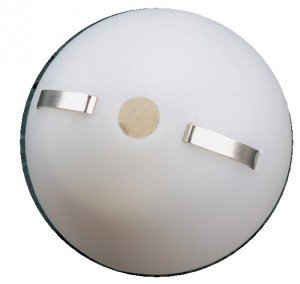 Driving questions ( revised and still drafty [maybe gale force] ) :
How  is motion demonstrated when the Energy Ball lights up and buzzes and how does that help us understand that energy transfer is happening ?  
How can the energy transfer that is demonstrated when the Energy Ball lights be explained as part of a system?
What is the the causal relationship  that is happening when the Energy Ball is working?
The motion question addresses the first two performance expectations. There will be learning experiences provided to help students develop the concept that motion is needed to demonstrate energy transfer.
Take away– If I use this as my anchoring phenomenon then all the learning experiences for students will need to be carefully crafted to be meaningful and coherent and be necessary for students to be able to answer the questions.
I need to say this is the umpteenth time this instructional sequence is being reflected on and revised.  It is being piloted again after two previous versions.
I don't think and hope it is ever truly finished because I hope that each time I or someone else uses this with students that it is looked at again through the lens of time and more learning.
I would love feedback on these questions, the phenomenon.  Please share your thoughts and ideas!.